Commercial Pressure Washing | No Business is too Big or too Small
All Touch Power Wash & Paint is an experienced pressure washing company continually seeking partnerships with quality property managers and business owners with the same vision and mission, and that is to keep our customers coming back.  The look of your business property is paramount to sales and productivity. Call us for concrete cleaning, restaurant cleaning, hot water power washing, truck fleet washing, condominium siding cleaning, multi-unit housing washes, graffiti removal, and rust removal.  We also offer monthly and cyclical power washing services to ensure your business always looks its best!
Condominiums and Multi-Unit Housing
Keeping an immaculate exterior will boost apartment value, keep current tenants, and attract new ones!  However, extensive knowledge and expertise of cleaning methods are indispensable to ensure the job is completed correctly. We have the necessary experience and precision equipment to clean mold, grime, and mildew from your property carefully and effectively without damage.
Restaurants
The cleanliness of your restaurant is essential to growing and maintaining your customer base.  We can be your most valued cleaning partner by making sure the quality of your establishment is also reflected on the outside!  Hot water washing is available to remove grease from your outside surfaces.
Fleet Washing
Your fleet is one of the most important advertising pieces of your business.  We can make sure your trucks sparkle in order to represent a professional and positive public image.  Keeping your fleet clean also protects your investment and your drivers.  A clean vehicle provides more safety and helps make routine truck maintenance easier for mechanics.  In addition, a clean fleet could save you money!  As dirt and grime build up on your trucks, they become less aerodynamic and weigh more.
Additional Services
gum removal
graffiti removal
rust removal
dumpster pad cleaning
parking garages and parking lots
Commercial Painting
All Touch Power Wash & Paint can help you transform the look and atmosphere of your business by either keeping it up to date or adding some color!  We have partnered with Sherwin-Williams® to ensure the highest quality paint completes your vision and keeps your business current.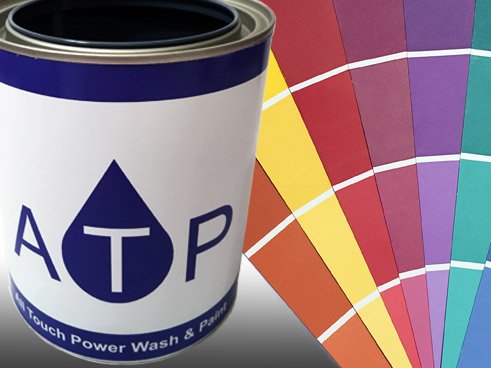 Choosing your colors has never been easier!  Just click on the link below to start painting your vision!
http://www.sherwin-williams.com/visualizer
Interior Painting
Condominiums
Multi-Unit Housing
Restaurants
Warehouses
Office buildings
Parking garages